A epiphany of moon and sun combined
August 21, 2017
It was an obscuring.
Rare, celestial, glory
I watched through black lenses
As a play, a lunar story,
or flaming scythe
Gave way to the sable
Oppressor, then 
Vanished into black.
My breath was sucked away.
In a second
Day was night,
Strange blues and purples beconned
And flitted around the air.
The sky was crowned with a moon
Wreathed in
Silver flame.
The world melted away
Sounds disappeared.
That crown was my only vision.
Nothing hoped and nothing feared.
Turquoise, coral
Filled the sky as
Bailey's beads shone and a diamond
flashed on the side of the moon.
A  firefly danced beside
My glowing cheek
Where opal tears lay
Like pearls on a sandy creek.
The halo of tantalizing
Fire,
golds and purples
Spinning through the sky above.
A jewel embedded in the
Dark blue chiffon
Shines out at me
And then I'm suddenly drawn
Past Venus, Mercury ,
Jupiter.
And my heart is racing and
I never want this to end.
But a golden white flash
Sparks against my eyelids.
And I bow my head toward the ground again.
My heart falls with a dash
Into my chest for the first time in
Two minutes and thirty seven seconds.
It seemed like a heartbeat.
Or a eon or something in between.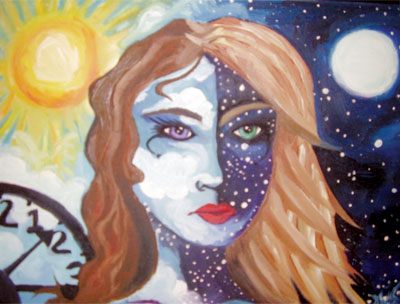 © Amanda S., Attleboro, MA