Evil Comes
MAG
December 8, 2012
As her majesty's rays are expelled from
the blue
Anguish and dejection await those who
dare pray
For concealed in the shadows set my
Luna's display
Stirs the spawn of that fiend whose intent fell askew

Beings distorted in form, conceived of
odium pure and true.
If by chance, so desire the cosmos, in their paws you fall prey
Squeal not mortal plaything, they thrive
on dismay,
Those lurking sons of darkness
Come to gnaw upon you.

In the midst of bane and bloodshed, a
howl tears at the dank air
For in the aid of your demise, her divine
orb is destined, designed
Like a radiant pearl to be freed from the prison in which it is confined.
And as her radiance caresses the horizon, the beasts gnash their fangs in despair.

For this light brings them terror, inexorable fear and woe.
And so for a time they retreat, enraged,
barking in alien tongues at her majesty.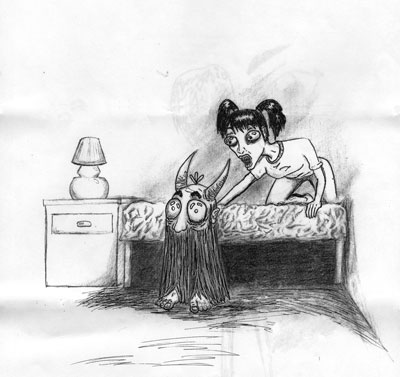 © Jasef I., Norfolk, VA