Washed Away
October 24, 2011
Washed up on the shore,
Exposed for everyone to see, your heart ripped out and tore.
Cool water rushing over you,
Opening your eyes, then you didn't have a clue.
But now, with your eyes open wide,
Seeing she was always on your side.
There with an open heart,
One you decided to come along and rip apart.
Loving you even when you did wrong,
Just waiting for you to see she has loved you all along.
Taking chances and risks just to be with you,
Defending you when something bad was said, yeah she did that too.

But no matter how high she jumped or far she ran,
You left her alone, but now you are open on the sand.
Washed away with the crashing waves,
Drifted away into sea, she's now waiting for a man who saves…
Mending her heart with love as a glue,
Something that you took too long to do.
Her love for you has now washed away,
Because in one place your heart would never stay.

Not wanting to be drowning in hurt forever,
Making the right choice, she knew your love would have to sever.
Getting away from those hopeful nights,
Wishing that you'd end up together and everything would be right.
Pipe dreams that keep her love for you alive,
Love that is now at the bottom of the ocean – it isn't worth the dive.
Now that she's gone, she isn't turning around,
She's gone without the slightest sound.

As another wave of coldness rushes up on the shore,
Waking you up, you think you should've loved her more.
Missing her now that she's not coming back,
It's your fault, 'cause now her love you'll have to lack.
You waited too long,
Now she's grown too strong.
She knew when to swim away and leave the shore,
Because she deserves so much more.

Maybe some day the right girl will come around,
And with stitches your wound would be bound.
But there will always be a scar,
Reminding you of who you are.
Just the guy that broke a heart,
Of a girl who was always there from the start.
The guy who was exposed for everyone to see…
Just think of all you and her could be.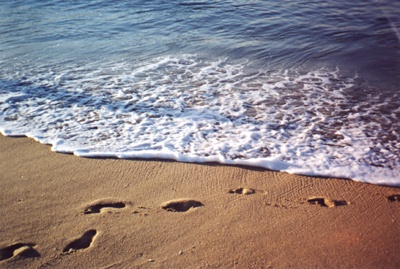 © Daniel M., Phoenix, AZ