Morning Practice
June 9, 2011
When I close the door, the room is tranquil
It is just my still instrument and me.
The room holds its breath, waiting for my will,
My goal, to practice, as music's trainee.

I raise my instrument to waiting lips,
And begin to play cresting waves of scales.
Using dynamics and accents as tips,
My flowing melody fluidly sails.

As slurs slide notes from beginning to end,
Sharp staccatos crisply dot the music.
On ebony wood fingers ripple trends,
Maybe crescendos for an extra kick!

But when 8:10 rings its shrill warning bell,
The music stops to see what's next to tell.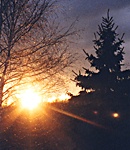 © Christy S., Germantown, NY