Tread or Dread
June 25, 2011
Billowing blackness reverberating out my chest.

It swallows me whole and fills me up to the brim.

So hard to fight but I manage to do my best.

This melancholy ocean is difficult to swim.

I drown and my eyes go dead with obsidian.

Floating endlessly in this dead wake.

Wishing I could be in a meaningless oblivion.

Without a care of everything I put at stake.

To clean this mess I will need some white out.

As if I can still feel the smooth texture of

Those miniscule pills so white and stout.

I reminisce of loathe and love.

Welcome, your perfect little girl is here,

but she craves the day she can grip that beer.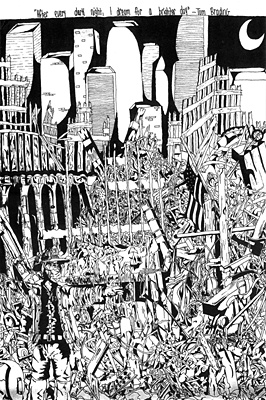 © Tom B., North Vernon, IN