Sonnet #155
January 8, 2011
The feel of seeming half of one made whole:
You deserve this, you deserve this, you cry.
But whether true or not, you shant but know,
For who could ever tell you otherwise?
To ask of love brings nothing but its loss,
To long for it calls pain to make you lame,
And yet naught is too high to be the cost.
Rapture and it, your eyes weigh both the same;
Howe'er, to win the real ruby jewel,
A noble-seated posture is your crutch.
Throw crown and caution windward, zeal's the tool,
The torch and path to love's long-fickle touch!

The merited state is the lesson taught
That oft to be rebuked self-pity ought.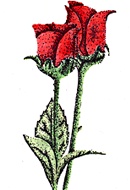 © Sarah M., Phoenix, AZ