My Only One
May 23, 2010
I miss those late nights,
Holding hands and tickle fights.
I think about the way we used to kiss,
And how it brought me bliss.
But now I'm broken in half,
Thinking about how we used to laugh.
We were going to marry,
With responsibilities that together we would carry.

I miss the way we touched and how it left tingles on my skin.
It hurts me to know it'll never happen again.
I remember how you made me happy,
Just the way we used to be.
You gave me butterflies when we were just sitting,
The way you had my heart flitting.
I loved how you used to hold me close,
Whispering in my ear and kissing my nose.

We were in love,
And I thought we could rise above.
Despite the doubt, we were going strong,
We had been together for so long.
But the night that you left and took my heart with you,
I honestly didn't know what there was to do.
I watched our whole world go up in flames,
And everybody thinks I was just a part of your games.

I kept denying it and blocking them out,
I didn't want to hear what they were talking about.
Their piercing voices were getting to me,
That's not the way it's supposed to be.
The thought that it was all a lie,
I'm feeling like I want to die.
It can't all be over, it can't all be done,
I feel like I'm deserted in darkness and I'll never see the sun.

Your beautiful face,
The way you taste.
It's stained in my mind,
The same love, I'll never find.
I have the ghost of you in my heart,
Of me, you'll always be a part.
I never wanted to be torn in two,
All I ever wanted was you.

Now here I am with permanent tears,
Stuck with all my greatest fears.
Putting myself through invisible hope,
Trying to find some way to cope.
But I'm still waiting,
And my love isn't fading.
When all is said and done,
You'll always be my only one.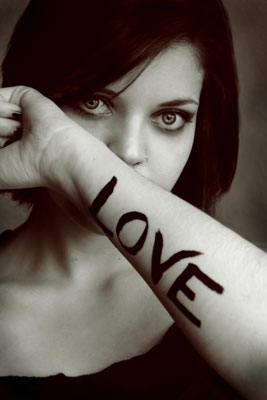 © Michelle B., Blairsville, GA