Take Me Back
August 10, 2012
Hey hey take me back to the good old days
When the only question on my mind was what game to play.
Hey take me back to the simpler times
Where there's nothing to decide and the sun always shines

Take me back to when science was planting sunflower seeds
In the little school greenhouse surrounded by weeds.
Give me back recess
And petty little fights
And the days of staying up 'til ten
And calling it a late night.

I wish for field trips
And tables, not desks.
I wish ditching my bike helmet
Was my most daring of risks.
I wish I still leapt from my bed at the crack of dawn
And waited with glee for the first snowflakes to fall.

Take away dances; give me back birthday parties.
Take away textbooks; give me back bedtime stories.
Take away the car keys; put the training wheels back.
I'm gonna close my eyes,
And dream my way back to the past.

When I look down I want to see light-up shoes.
I want to learn the names of planets and how to count by twos.
I want dinosaur-egg oatmeal and a Kool-aid Jammer
And summers where my hair turned yellow while my skin got tanner.

Give me back evening walks to the farm
Feeding the old white horse from my innocent palm.
I long for overalls and climbing all the trees
For books about ponies and a Band-Aid on my knee.

Take away all-nighters; give me bedtime at nine.
Take away trig; teach me how to tell time.
Please replace Shakespeare with The Little Engine that Could.
Take away growing up; bring me back childhood.
Yeah, I'll take a one way ticket back to childhood.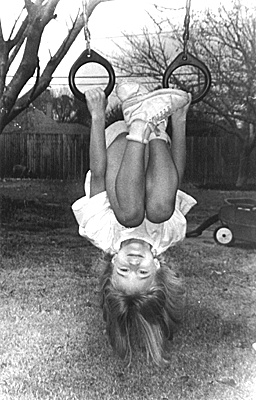 © Nikki W., Highland Village, TX