Melancholic
March 27, 2012
For ashen spread years had I wandered alone,
As I walked in my head with those footsteps atoned
To a series of thoughts, which quickly were lost
To a silvery swirl of salt water and moans.

I thought I was doomed to this melancholy
Till the end of my days and sad eternity!
But a glimmer of hope, behind all my mope,
Kept my youth in contentment that fooled even me.

And then you came by with your halcyon hair,
And your swampy green gaze, and your effulgent air,
And what I had lost, I thought I'd forgot,
Was unlaced with a kiss from your countenance fair.

With summery breath that pressed down on my fears,
You lent me your hand and your flutters and ears.
And though it was quelled, I thought it was well,
It seems there is nothing that shall stop my tears.

They came and they flowed and they dripped and they ebbed,
How treacherously had they formed in my head!
But you never knew. Each instance I flew
To my haven for comfort, laid fetal in bed.

And who am I now with a glistening cheek?
Have words been ephemeral, guilelessly meek?
How lovely you are, your mind spits out stars,
But have I been damned to a soulful of weak?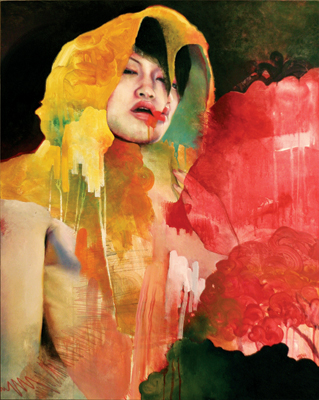 © Winston C., Jamaica Plain, MA