The Skull and the Spider
October 1, 2011
There was a Skull and a Spider,
and this is not a pack of lies,
the skull was that of a writer,
the spider was considered wise.

They talked and they talked,
under the heat of the sun.
The flies, the spider stalked
While the skull was having fun.

of nothing else, the skull spoke.
other then the writers of old,
about how their pen strokes,
were as good as gold.

"the pen is mightier than the sword"
said the skull, with a grin.
The spider didn't say a word,
He knew what was mightier than the pen.

The skull got very sad,
for the spider quit talking.
"I'm sorry, did I make you mad?"
But the spider went on stalking.

The skull tried his best,
to make the spider speak.
but eventually he had to rest,
for he was getting weak.

Finally, the spider said,
"The spoken words of a friend,
always beats the pen of the dead."
And of my tale, that's the end.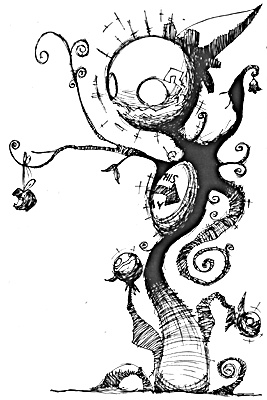 © Tas H., Galesburg, IL