Mile 99
April 21, 2018
An orange Mercury Sable sprints down
Highway 52, the driver
Looking down.
Texting mom:
"Be home
Late
Me and friends
Gonna
Celibrate"
He looks up
But not in time
He sees it
With a moaning wine the little
Baby blue Buick
He's behind
With Lucerne written
On the trunk.
Going 50
In a 65
Fenders crush, tires
Slip
A red Mack swerves
Slides
Broken glass
Blood
smashed guard rail
Flash of orange
Over the bank
A practiced hand types:
Goodb
A message never to be sent
Five seconds later, an orange heap lands on a sandbar.
A green F150 stops
Lights flash
Off a smashed silver
Letter S
As it floats
Down the river
The owner of the Ford
Gets out
Runs
Cries ring out
From the heap
A strangled
"Help me…."
The man pulls aside the rubble
Pulls out a bloody mess
Puts him
In the car
Drives off at top speed
Soon to be joined
by red and blue
flashing lights
The Sable contained four high school seniors going from party to party to celebrate graduation.
The driver was texting his parents when they were in a collision.
Only one of the four was wearing his seatbelt when they spun off the road.
He was the only survivor, pulled from the river by another driver.
However, he would never walk again.
The Lucerne contained an elderly couple, coming back from the cities after going to a performance.
They were both killed when their car was knocked into another lane by the crash and sideswiped by a semi.
The semi driver's truck jackknifed, barely hitting the Sable, providing a little bit of extra force, saving the life of one senior. He was also not wearing his seatbelt, and when his truck hit the Lucerne, he went out the windshield.
He was run over by his own truck.
The owner of the green F150 found the young man before emergency help got there.
As he sped away, he called 911.
His call was the first in.
He alerted the authorities that he had the young man in his car and was driving to the hospital.
For speed he was given a police escort.
This allowed them to get the young man to the hospital quickly, saving his life.
When other emergency crew arrived, they found there was nothing that could be done.
Only the three cars were involved in the accident.
The highway was quickly re-routed into the other lane, as the semi blocked all traffic in that lane.
By morning, all trace of the accident, save the hole in the guard rail was fixed.
In another two days, even that was gone.
And finally, one year later, the last trace that had originally been missed was repaired.
A mile marker had implanted itself into the leg of the young man who had caused the accident as the car went over the edge was replaced.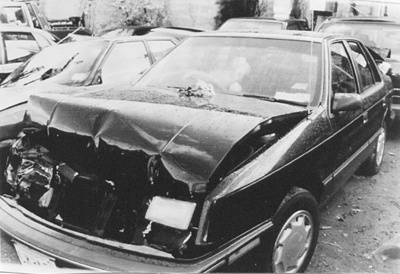 © Maura D., Marshfield, MA