Made of Gold
April 20, 2018
I am not made of gold.

For months I sat,
Hung and tangled
Strangled
By blue and black and green.

Every day,
Fingered, fondled, studied
By the fat greased fingers.
I'm nice and shiny--
But not worth two dollars.

And then
Fingers pulsing with electric curiosity
Two girls.

It's made of gold, she said.
You have two dollars, said the other. Buy it.
It's so pretty, she said.
It would be good for dress-up.

So I was untangled
Unstrangled
And tugged

Over a thin neck
Pulled into the cold air
And back into a warm place.
Into a room.
So many colors.
A sea of pink and purple and green.
Lacy, ruffled,
Thin and thick.

You be the knight.
No! You be the knight!
I want to wear the pretty necklace
And be the princess.

And then I was made of gold.

I was the princess' magic golden necklace.
Stolen! By the wicked witch Liliannislava
Who wanted to steal Princess Katrianna's flower powers
For herself.
Wicked, wicked witch.
We brought up the mighty sword of Blandilvampilopolous
To her wicked witchy neck
Just about to slice her head off and bring flowers back to Avandalasia—

HEY.

James, why are you wearing that?   That's a girl's toy!
You're in a dress?
   Sarah, did you put makeup on him?
I think it's time for you to go home.
We need to have a

   LITTLE
TALK.

The clothes were put away
Into their big plastic prison.
I could almost hear them screaming.
And they were gone.

Dad sat down.

James. You're a boy.
Boys don't play with girl's toys.
Whatever happened to that baseball I gave you?
James.
What happened to the baseball I gave you?

And then I was wet.
Warm, wet.
Scared, sad.

I DON'T LIKE BASEBALL.
I WANT TO BE A PRINCESS.

Give me the necklace, James.
 
NO.

James, give it to me.

NO. IT'S MINE.

And then I was
Taken
Away.
To the dining room, where Sarah stood
With her big plastic case
Of dresses squeezed tightly in.
So much life choked in
One
Tiny
Box.

Is this yours?

Yes.
I didn't belong in this hand.

The other girl came back
Suffocating in a body that wasn't hers.

Sarah offered me away.

My dad won't let me keep it, said my princess.

I felt something break, but I was not broken.
I was pushed close into Sarah's chest.

I can keep it for you, she said.
You can use it when you come over to play.

Looking down, pretty eyes away.

I don't think I can play anymore.
That was the last I saw of her.
For a long time.
The girl who said I was made of gold.

For months
Then years
I sat in a box
At Sarah's house.
Dark, cold.
Tangled, strangled.
Dusty, knotted, choked.

And then one day…

The light shone on me again.
The light of my princess
Shining and free.

Julie, come and see!

I kept your necklace made of gold.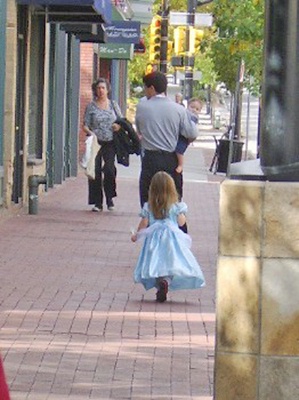 © Kristen T., Tulsa, OK