My Ocean
April 7, 2018
He was like the ocean.
I traveled to the beach everyday, to be free. Hoping to feel free. The ocean was my escape, like it is for almost everyone. I would go to the ocean, but the real problem was if the ocean was there for me. His sweet and hurtful words like high tide and low tide. I never knew the true depth of his waters.
He was like the ocean's roaring waves.
Some days, he would crash beautifully against the shore. Others, he would run away and hide within the midst of the sea. I remained on the dry sand. "What about me?" I would whisper as I watched him slip away. I would wait for him on the shore as my freckled skin would burn, and turn wrinkly, until he returned. Some days, it was longer than others. But when he returned it was a cooling relief to feel the water. No mater how bad the salt burned my blistered skin when he came back.
His eyes were the ocean.
His deep blue, beautiful eyes that I held on to for three years. His perfect blonde hair like the sand. I was drowning in the ocean of his eyes, and I never knew it. I thought his waves would carry me away to freedom. But in reality, they would pull me under and hold me there until I was begging for a breathe of air. If I fought against the waves, reaching for the shore, it would only drag me under more. The salt water burned my throat and eyes. My red eyes made the world blurry. I guess that's how I couldn't see what he was doing to me.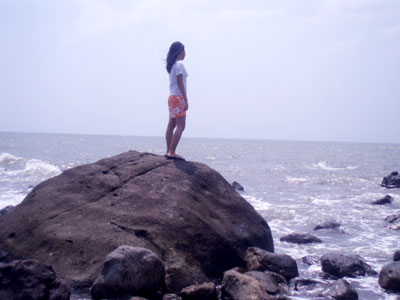 © Grace L., Bacolod City, Philippines