Ode to the Bathing Suit I Buried In a Backyard in Atlanta
March 28, 2018
I am wearing you
In approximately every picture taken from 2004-2006
Sun-bleached ringlets curled like a frizzy halo
around my chubby face
screwed up against the vicious Georgia sun.
My mother did not buy you
With the intention of purchasing a uniform
For her four-year-old
But I have always had trouble letting go of things
And you were no exception.
When I got you,
you were Pepto-Bismol pink and dotted with red cherries
Precariously attached to my shoulders with a couple of strings;
You made me feel like a Barbie doll,
Sharpay Evans reclining poolside on a white piano.
By the time I had to give you up,
You bore only the faintest resemblance to your brightly-hued origins.
Your strings were sewn and resewn,
Your bright coral only the slightest flush,
Your fabric stretched and bleached and peeling
From a thousand afternoons submerged in chlorine and dragged on concrete
at the neighborhood pool.
Your bottom flapped against my legs
Where once fabric had held taut, leaving the marks of a sunny day
etched into my sunscreen-coated skin.
My mother said
I had to leave you behind
When we moved to Minnesota
Because there would be no outdoor pool,
Only snowstorms and ice-covered ponds.
(I think she just wanted an excuse to finally be rid of you).
She meant,
give me that worn-out raggedy swimsuit so I can finally chuck it in the garbage can, my god.
I thought she meant,
I am a mean mom who takes away my daughter's favorite things for no reason.
I mourned for your loss:
Held a funeral in the backyard underneath the apricot tree,
Wrote an elegy to summers of the past
When I was a mermaid in a concrete-and-chlorine jungle
And you were both scaly tail and seashell bra.
My mother never found you
But if she were to take a garden spade
go back to that house in Atlanta
Squat down to the height of a six-year old
Look for the Cyclops sunflower that stands taller than the rest,
staring impassively with its big black eye,
And carve out a shallow hole at its base
She might still find a shred of chlorine-soaked polyester
With the faintest flush of pink
And a few lone spots of cherry red.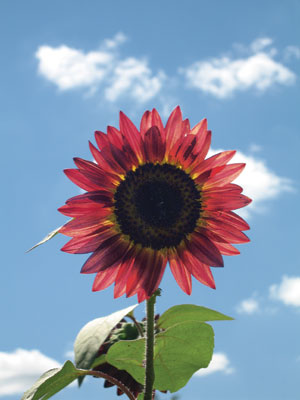 © Lydia N., Greenfield, IN