Dancing Down Straight Streets
March 28, 2018
The frigid, fall wind freezes his neck.
Tightening his scarf, he knows
the brewery remains just as cold.
Putting his hands back in his pockets,
he continues his dance down straight streets.
Around the corner, he hears yelling.
Picking up his pace, he knows
if a fight starts, the outcome converts to trouble.
Keeping his head down and walking fast,
the angry screams reverberate.
Stubborn kids and strict parents surround a building.
There are so many bodies,
he has to walk up to see what happened.
Expecting the worst,
he takes in hands out of his pockets and makes a fist.
He taps another man on the shoulder,
"What's the fuss," he asks.
"The new Haymarket candy shop is open," the man replied.
Every kid begged like dogs
for the coveted Hershey Chocolate Bar.
He turns and walks away,
more remains for me to see in this old town.
As I walk from the candy shop,
the voices of the kids dampen
and the straight streets silence again.
Walking down the cobblestone street
in between the old buildings,
I think about what these buildings have seen.
I can't help but smile, imagining myself in 1901,
dancing down straight streets.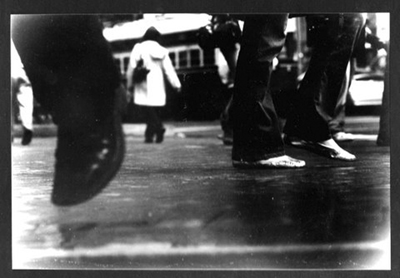 © Alex B., Bethesda, MD