Lady of the Land
March 25, 2018
Lady of Truth
Why have your people retreated into delusion?
Packaging Paradoxes
And presenting them as truths
Opinion treated as gold, although barely as malleable
Yet a fool's gold is worth no more than the soil he stands on
Lady of Greatness
Or the shell that remains
Why have your people defiled your womb
From whence we were born only a short time ago?
The tenants of which have forgotten your tenets
The basest materials thrown to the wind
Lady of Prosperity
Where are the tired and poor?
For they were once welcomed
Certainly, they are not found amongst the masses
We spit in their eyes and douse them with blame
Why must we now be so blinded?
Lady of Humility
Where are the humble?
I know they are here, hiding behind pedestals
On which inflated dreams and desires of others are presented
Why must we display that which makes us imperfect
While our most noble remain no more than apparitions
Lady of Honor!
At least we may show others our faults
So that they may help us through them!
For we have become our own folly, that which we once hated
And the ones who once persecuted us
May well be the ones to right our wrongs
Oh Lady of Unity!
Reassemble your parade in the minute!
So that its drum may be heard around the world
So that courage may become common once more
So that we are not a laughing stock
To those that built the principles we claim as our only crutches!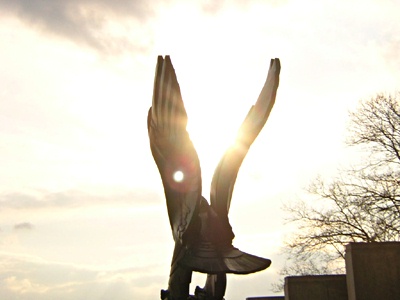 © Brittan S., Claremont, CA