Rumors
March 23, 2018
There is a house, which creaks and groans from
The weight of time.
And in this house, there is a women, or so
It seems.
She has long grey hair, chunks falling out, barely
Clinging to her scalp, gripping to her like she
Holds on to life.
People say she's a witch, potions and
Poisons filling her cabinets and shelves.
Cauldrons cluttering the floor, gardens of
Herbs in her yard for her deadly toxins.
She supposedly killed her husband, or turned him
Into a wombat.
She was envious of a young girl, they say, who
Was spending so much time with her beloved husband.
The girl had disappeared as well, soon after the
Witches husband.
That will show you to never mess with a witch.
I go to this house myself, curious to see
If all of the rumors are true.
Her house is not as they say, grumbling
Under the burden of maintaining a witch.
It is a welcoming looking cottage, green, with
Specks of dirt on the walls from gardening
On warm summer days.
Knocking on the door, anxiety builds inside
My chest, wondering what the old wretch will make
Me if she misunderstands my intentions.
A kind eyed women, with luscious locks of white,
Soft hair welcomes me into her home.
The rooms are filled with vases, holding elegant flowers,
Making her home feel like a five star hotel.
She asks me if I'm hungry, or thirsty,
And I am.
She brings me milk and cookies, and I find that
All the rumors were just that… rumors.
This old women was just a kind grandma, trying to
Get along in a life where you are the last branch of your family tree.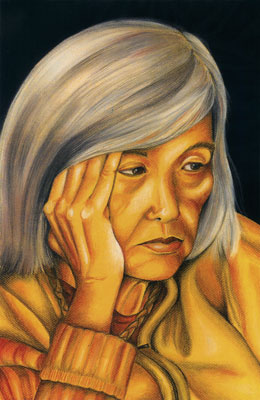 © Kaitlin C., Forest Hills, NY