Haymarket Candy Shop—The Streets of Old Milwaukee
March 23, 2018
I watch
signs swing back and forth, back and forth,
in the city wind.
The street lights flicker from their gas lit flame.
Then a woman pumps, pumps, pumps…and
rush, rush, rush out comes water from the well.
I run to a window and
peer in.
Candy canes stacked in boxes of
blueberry, grape, and cherry.
Pop Rocks in packages pop, pop, pop...and
circus peanuts squeak, squeak, squeak on my teeth.

I grab
Sugar Babies, Dots, and candy canes.
Throwing my change at the clerk,
blue, purple, and red stain my teeth.
While Sugar Babies stick, stick, stick… 
I lick, lick, lick, the taste parchment paper covering by dotted sugar.
I sit on the curb.
Observing sounds of friends enjoying friends,
and the singing sound of romance and love,
along with the shouting and yelling from the nearby food cart.
The sound of grandma's rocking chair creaks, creaks, creaks…and
I hear the click, click, click of street cars rambling down the track.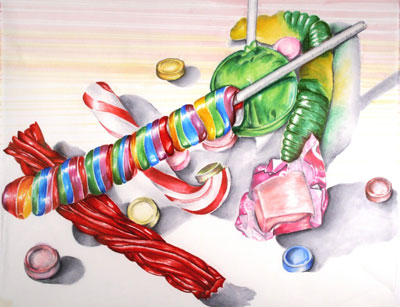 © Jamie B., Fairport, NY