In Waves
March 21, 2018
                       He feels alone in the bathroom.
         A quiet and ill-lit little box he has shoved himself into.
               His fingers grapple the shirt he has taken off.
                         The sounds sit there with him.
                                Cold toes tapping
                        a dreary percussion tribal beat.
              The faint droning of a hospital light above him.
          The soft whispering of a wheezing vent beneath him.
                                The mirror is sharp.
                            It cleanly slices him in two.
   He must sit on the toilet, facing the shower, bent over like an                             almost-empty tube of toothpaste.
      He does this because he feels he cannot stand in this trap.
                  The iron maiden's walls close in on him
                                when the door shuts.
                            Beyond the door is nothing.
                         Simply a boy and his bathroom.
                      The butterflies in his chest feel alone.
                                        suddenly
He feels as now as if they may come out, he tries not to think of                                           the illness
          His stomach rumbles and his ribs condense, and the                                 feeling reaches a peak once again.
                    And it goes down, like streams of water.
                                 Time for a shower.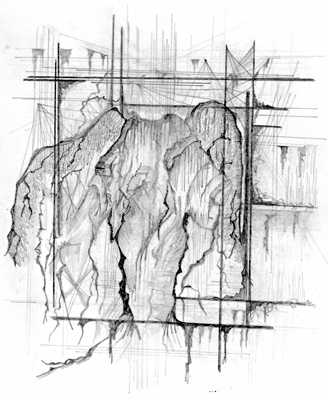 © Alexander G., Whitman, MA