Only Darkness
March 2, 2018
They always ask me,
why I don't break pieces of myself off,
happiness to give to those dear to me.
They call me selfish,
because I offer nothing to them.
They don't know that I have almost nothing left.
Broken pieces of light, they are scarce within me,
I can feel them, but can I keep them? No.
So I dig,
deeper and deeper ito myself to find the light,
so they may leave me alone.
But I only enabe them,
"It's too dull,"
"It's too small."
So I dig deeper, in search of bigger and brighter lights,
I clear out more and more of my only light.
I become a dark void,
these thoughts swarm my head as I search for the lights,
but the only light I find is dull and muted,
they have to go. I have to dig more.
Hope becomes despair, I'm not who I was.
I can't heal anymore, but that's okay I can't feel it.
No one gives light to me, they have a greed to fill themselves,
I can no longer give, I'm not selfish like them, I have nothing left.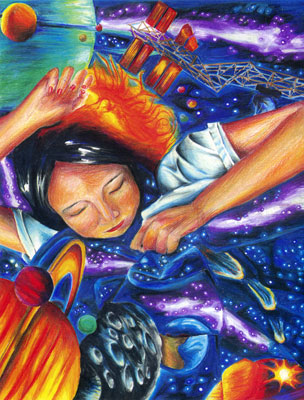 © Samantha P., Flushing, NY