Two Worlds
February 20, 2018
There are two worlds I live in.
Two worlds in which I inhabit.
One beyond our time and place,
One just like the one around you.
The first world isn't quite pleasant.
Brothers and sisters are with me, yes,
I have my family in this world,
And yet this place is severely plagued.
By stress and by misunderstanding,
By politics, hate, money, and strife.
This world has such little happiness,
And yet this is the one I am chained to.
But the second world is where it all changes.
A world, unlike ours, of my very own creation.
What was once an empty canvas is now filled,
And this canvas grows with my imagination.
This world is completely unlike yours or mine.
It is endless, and continues to grow and change.
It is held together by countless lands of fantasy,
And gives life to countless beasts and peoples.
Gardens where only glittering crystals grow.
Forests with unnatural and unbelievable plantlife.
Ruins where temples and castles slowly decay.
Mountains with endless caverns within their core.
An ancient beast with a pelt of glass.
A graceful equus with a single horn.
A winged beast with fire in its breath.
A tiny soul with magic forging its vessel.
Among the beasts, there are pale humans with pointy ears,
A forgotten tribe with immortality and black magic,
A clan of peaceful winged people who live in the sky,
A caste of shifting mortals with inhuman instincts.
And beyond this second fantasy world,
Which only exists in word and thought,
Is yet another many worlds of spirits,
Where both heaven and hell come in many forms.
This world continues to deepen with each day,
Forever growing with each spark of mind,
And each day spent among our reality,
A lust to exist in that realm grows stronger.
Alas, such a thing would never happen.
Only in thought can that wonder exist.
And this is the unfortunate truth for me.
The truth that I am chained to this earth.
However, when silence fills the room,
And darkness blocks out my vision,
I am able to leave my very own vessel,
And live in that wonderland of my own.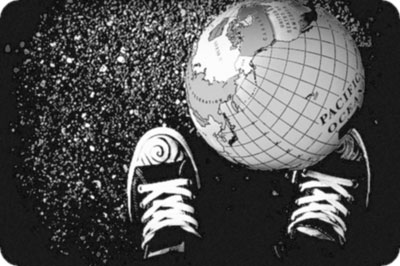 © Kailey E., Crownsville, MD