To Persephone
MAG
February 10, 2018
Growing from my skin are flowers,
swaying, fighting the cold sunless
sky of the train.

You must have felt this way
when the pills he handed you
sprouted unbreakable vines
entangling you: a trap.

When winter came but
the winds of change did not.

However long
darkness consumed you
I do not know,
but you could not be
choked because your
lungs were made of
purity and hope
and pomegranate seeds.

That the frail flowers you
so fearfully grew
from the core of your soul
with no sunlight
are still standing strong
untrampled, unplucked.

And the chains that held you
however hysterical they may have been
are gaining visibility, elasticity,
falling and clattering on pavements
covered in petals and posters,
out of stock, purged to extinction.

Today, many arias
have been sung
some louder than others
some muffled like your sweet voice
some causing ears to bleed, fingers to point

And many say we
are ungrateful, angry
But when I hear stories
about my friends getting
groped on the train,
pictures taken without
consent
Their voices erased
too shocked to mutter
"Stop"
How can I not feel angry?
What are we supposed
to be grateful for
when we still need
to pencil out a boundary
for people to understand
where to stop?
When others still hold
the power to erase
shaky-handed letters
whispering
"Help"?

Persephone,
if only you could see us now,
with our pink hats and hashtags,
with stems of solidarity,
so you could know
we are fighting
we are persisting
that you are not forgotten
underneath us.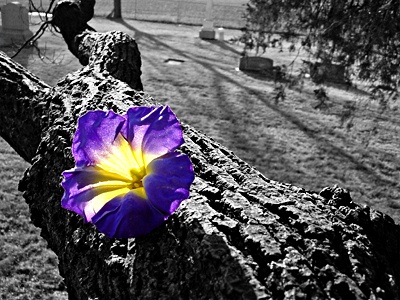 © Greg K., New Lenox, IL