Fresh Snow
January 25, 2018
Infinite black stretched across the sky
With little glints of light, twinkling.
Somehow seeming perfectly placed.
Sitting on the roof of her house
They cuddled in mounds of blankets
Sipping hot chocolate to keep warm.
The crisp air stained with apples
And corn fields in the distance are packed with deer
Nibbling away, crunching the leaves.
All the while, they gazed at the night sky 
Admiring from afar
With the moon illuminating the yard
Giving it a darker look, rather than light.
She conserves this view
For it was filled of happiness and warmth
And she feared letting that go.
But it's beginning to get colder
Frost pushed down on the grass
And trees no longer lit up with vibrant colors
Fiery reds, blazing oranges, and bright yellows
Shreds of colors were torn little by little
Now they were black, drowning in grief.
The wind was howling gently
Blowing away the leaves
That fell dead, mid-way through autumn.
The scent of apples vanished
And the cold burned her nose
Her mug of chocolate empty
Now feeling alone.
The endless black in the sky was gone
But instead stretched a bright white cloud
It released little snowflakes
That landed on the tip of her nose

They were falling around her everywhere
Creating a new blanket and now
She couldn't feel the cold
The snow that floated through the air
Almost seemed to warm her up
Sending jolts of joy through her
The trees weren't grieving
But at last had a new found beauty
The freshly fallen flakes of snow.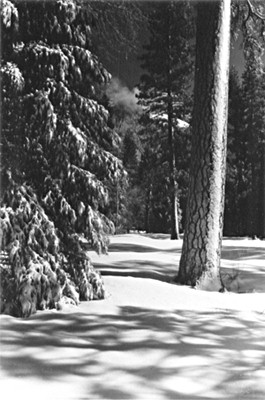 © Steve S., Marblehead, MA