crimson
January 19, 2018
i try not to let the crimson bleed through.
i grasp onto its glassy fingers and attempt to hold it hostage
but they slip through like ice
and all I am left feeling is the bitter, vacant air.
i tie it with an old rope to my thumping heart
but it gnaws right through the knots
and soars off to become one with the fluorescent sky
with its neon oranges seeping into pastel pinks.
it wants to be painted into the scene
but the crimson would clash with the masterpiece
and burn the canvas
until the beauty became nothing but ash.
so, i plead with the tyrant and tell it to trap itself
"please," i whisper, each letter evaporating as soon as it escapes from my lips
they slide through like honey dripping from a beehive
but the ferocious beast unleashes itself
and curses hop off its tongue like a child's hand from an iron.
it slams its fists onto my feeble figure
and its shrieks pierce the atmosphere with memories of hell.
the power-hungry demon claws its way to the surface
and feasts off of my wounded flesh.
the sole stomp of its feet create an earthquake
and suddenly, the world comes crashing down
and death spills from its shadow.
as i stare at the reflection that no longer belongs to me
against the kaleidoscopic, cerulean water that now hushes its voice
i see streaks of crayon jutting outside of the lines.
despite the billions of colors gushing through my tie-dyed mind at this very moment
the only monster that will dare to show its hideous face is
crimson.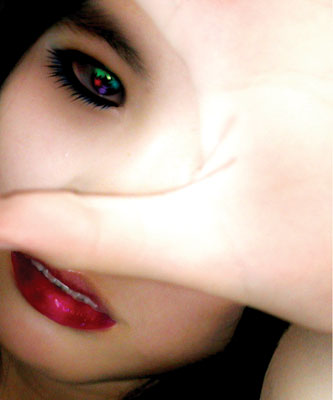 © Victoria W., Arcadia, CA