The Mimosa Tree
January 9, 2018
Branches knot tightly together like fibrous strands of embroidery string.
The song of the mimosa tree lilts,
jumps from breeze to breeze
creates a pathway,
draws me in.

As smooth and familiar as pencil to paper
The graphite slides off splintered wood
My brother's hand guide it.
The same hands with knuckles pristine and velvety from the lack of knocking,
The same hands climbing the mimosa tree and grasping at it's knots and folds of embroidery string.
The same hands that collected tears
When willow branches shrouded our door.

Every footprint in these soft wood floors
Filled with drops of saltwater and dimmed starlight.
the compelling scent of rosemary
replaced with dust settling on faded leaves.

But as the clock ticks on
The pools dry up
Leaving grains of salt and dim streaks on small footprints
Warmth returns to this place
And the embroidery string ravels back up
To the mimosa tree.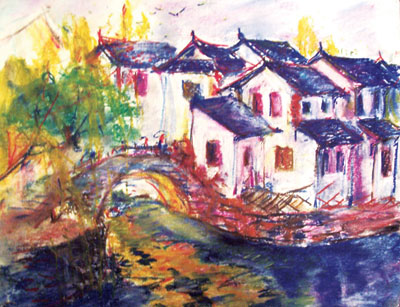 © Xiao H., Naperville, IL