Crucifixion
December 24, 2017
That was a lonely, cold dark night.
While the wind was wailing upon my pillow sinking,
a silent ache stole into my heart.
So painful and dark, like the poison of Satan that devours
every single cell of my throbbing heart.
Tell me truly, you demon! Where is my hell?
Does it stick on the blood dropping from the flail that flogs son of God?
Does it lurk in the laughter of hypocrites?
Does it blend with the wild autumn wind that blows away the last leaf of that pine tree?
Tell me truly. I beseech you!
But the ache spoke nothing, only grew stronger.
So cold , so cold was the pain that it seemed to be coined into million miles of Glaciers.
Stupidly, my body convulsed, and soon it became stiff.
No longer could I turn around, but was left alone, stiffen as a mummy, crucified on my cold bed, by the curse.
No one was there only pain and darkness.
Suddenly I sunk into a silent dream enchanted by the pale moon light.
I felt like a man in the moon
-man in the moon, crucified by the noon, on a white cross standing there alone, on this desolate wide world.
Nothing can he utter; no words can be heard
Nothing can he do; no motion can be seen;
only strained there, breathless, motionless, dropping dried tears;
in this ghastly grim space, the cross and the man stand in absolute silence, like a statue.
Who knows if the man is still alive, if his heart is still beating.
Who knows if his God has deserted him.
Woe to him whose raving soul is incarcerated in that unbreakable cage!
Suddenly I woke up from my dream, still nailed on the bed.
Am I?
Am I crucified?
By pain or numbness?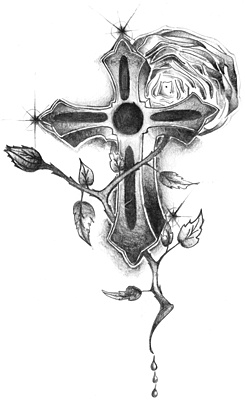 © Ricky P., Natchitoches, LA