Frozen Fox
December 21, 2017
Frozen fox wrapped under the river-sheets, its
Marked maroon matted empty umber and
Eyes fear-fixed and wide in frozen slumber, I wonder if When it slipped it understood its own mortality:
trapped in a watery den fighting gravity.
Frozen fox lost to slippery frost.
Now, without footholds or friends, it's nature that Clots the beast's blood:
His nature that clots the beast's blood.
Frozen fox though flawed, cold, waterlogged and wet,
Will thaw in Spring, surge downstream to disturb whatever Reanimate things remained after The Reckoning.
There, colorless, no beauty will be found In a drowned fox's once rusty pelt.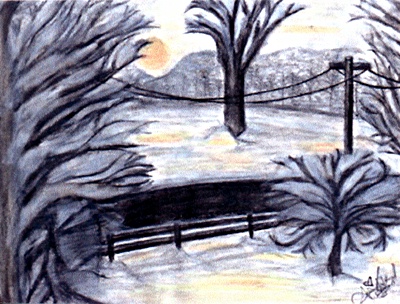 © Amanda W., Nanty Glo, PA