Mirror Mirror
December 14, 2017
Standing, a familiar face staring back,
I can't say who she is.
Waves of muddy chestnut
cascade from cranium to clavicle,
itching to go shorter.
Ghosts of a smile play on her lips, dead
the rays as droplets trickle to the earth.
Once bright eyes shine dull, once blushed cheeks
now pale and hollow.
Rosewood lipstick meticulously smeared,
caked on to cover the cracks in her lips,
so completely out of place.
A knitted sweater hangs from her shoulders,
engulfing her bovine figure in the folds,
a pool of dove woolen yarn hiding the voluptuous
beauty moaning, screaming to be free.
To be loved.
I could hear the growl, a familiar friend,
purring in the depths of her figure,
crescendoing to echo off the walls,
only hitting deaf ears.
Saliva rushes to moisten her tongue. Swallow,
a familiar song ringing in her ears.
She moves her hand to muffle the monster.
Mirroring her movement, my fingers
call him, char him, coax him to show his face
so she could see what she has done.
I raise my gaze and meet hers.
My eyes desperate. Her eyes determined.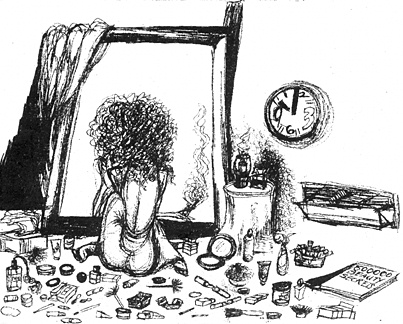 © Asha M., Philadelphia, PA