The Trio
November 28, 2017
Once a wife, now a wronged woman.
All I know is that we used to be in love.
Together for twenty years, but everything was fake.
But it doesn't mean anything.
You weren't the man I thought I knew.
You started returning later and later.
Never kissing me.
Or holding me like you used too.
I thought it was me.
That I was doing something wrong.
Then one day something changed.
I followed him after work, ideas floating in my head.
You pulled into a Motel 6 on the edge of town.
Knocked on room 201.
And she opened the door, blond and beautiful.
My hands were glued to the steering wheel.
I couldn't move.
After a while I returned home.
Took all of our luggage from the trip you never took us on.
Packed everything that was mine.
Left the dinner plates on the table.
Took the kids and drove to the next state.
I never even looked back.
Once a mistress, now a wife.
He was a broken man when I met him.
Twisting his gold ring.
Drowning his sorrows in whisky.
I thought he might need some company.
I wasn't thinking.
We chatted and drank like old friends.
I got the text two days later.
Meet me at Motel 6.
That was all it said.
I got there early.
It was an unpleasant sight; stale and moldy.
But he came, and everything was alright.
Two years later he asked me to marry him.
His wedding ring was gone.
The tan from our recent trip making the white space stand out.
I said yes, happy to leave that musty motel room.
He took me to his house, the kids' bedrooms empty.
I knew then what I had done.
But I am okay with it.
I can live with being called a homewrecker.
It's not my fault he met me after her.
But then I got the call.
From her, telling me to go to the hospital.
He had never changed his emergency contact.
Crashed on his way home.
Drunk out of his mind as usual.
I wasn't a wife for very long.
Once a respected man, now a fraud.
I met her when we were sophomores in high school.
It only made sense to marry her when she got pregnant.
I was the breadwinner.
She the ever obedient homemaker.
Twenty years of marriage and two kids.
I was stuck, drowning in my life.
I met her in a dark bar on a Tuesday night.
She didn't care about my wedding ring.
Two days later I sent her a single text that read; Meet me at Motel 6.
Two years went by, my mistress and my wife both equally in denial.
I knew my wife followed me that night.
She left me, something that I would have never done by myself.
I threw my wedding ring into a box with all of our memories.
Drove to Motel 6 and asked her to marry me.
I couldn't live alone.
I lost myself when I lost my wife, she was part of my sanity.
The other part was whisky.
A couple drops in my morning coffee.
And a bottle a little something in the morning commute..
Two beers before bed.
Then repeat.
I was on my way home that night.
I had gone out with work buddies, insistent that I could drive myself home.
I didn't see the car coming.
The last thing I remember was the bright lights in my face.
The trio was  reunited at last.
A sea of black clothes and wilting flowers.
Two women at opposite ends of the casket.
One brunette, the other blond.
Each with a gold band on their left hand, one was dull and the other was shiny.
One grasping their children's hand.
The other holding onto the casket for support.
They left the church together.
The endless waves of destruction flowing before them.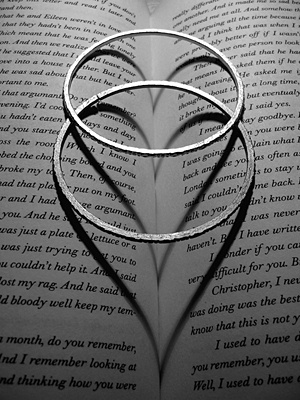 © Julia K., Old Tappan, NJ