At First
November 21, 2017
She was unlike any person I'd ever met. She stood in the rain, hair stringy and eyes aglow. I was shivering, the cold seeping into my bones. It didn't seem to faze her. She was eccentric, passionate, alive. I had nothing to live for, nothing to lose before I met her. She sparked something in me, something I'd never known. Before her I was lifeless, a shell of a human. When I met her I was wary, unsure of her. But when I fell for her, I dived full on. I was enamored by her insanity, fixated on her madness, in love with her crazy.
I had never really known what love was until I was dancing with her in the rain. Kissing her in the rain. Drops seeping into our pores, sealing our kisses and destinies. My fate was stamped that day, the day I met her, and sent like a letter. Her small, white hand reaching for my whiskered face, and caressing my jaw. Her rose petal lips brushing against my cheeks, nose, eyes, neck, and mouth.
I want to freeze that moment forever and keep it from melting. I wish I could keep it in my pocket and take it with me everywhere I go, like a trinket. I wish I could go back to that time, that place, whenever I wanted to, whenever I could. But time goes on. Rose petal lips crack and bleed and small, white hands turn ashy and grey. The insanity and madness I was in love with took over her. She forgets who I am; squirms, cries, and screams. She's gone and I have to face it, but I cannot. I want to give her the rain, she always enjoyed the rain. Maybe she always belonged in that cushioned, gray and white, sterile box; and I was just too blind to see it.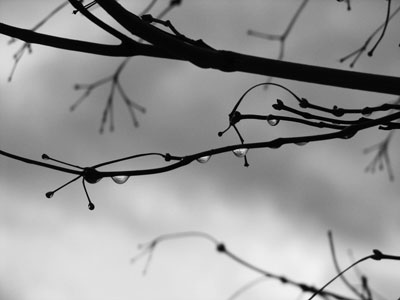 © Carly M., Hopedale, MA