Everything I remember
November 2, 2017
We found it under piles of itchy fabric
in all colors of the rainbow,
stacked on the top shelf of the closet:
a colossal, mustard yellow box of legos,
hunks of brightly colored blocks stuck together,
plastic windows,
rubber wheels,
pink flower pots.
He promised to build a home out of them,
for the two of us,
filled with miniature people,
with peeling faces.
* * *
A green leather sofa
gently shoved against a whitewashed wall.
I could barely breathe,
with his stubby fingers tickling me to tears:
tummy, neck, sides, belly button,
and right behind my left ear.
Anywhere he could reach.
Our neatly cut pb&j sandwiches
and Sesame Street juice boxes
left forgotten on the floor.
Me, lost in the folds of the couch, cushions scattered all about.
Him, holding me down, giggling uncontrollably,
his dimples carving two identical craters on both cheeks.
Our little noses and bony elbows imprinted in the leather
to this day.
* * *
I eyed him from behind my drink,
his face distorted through the glass.
"Pretty please," I whispered.
Eyebrows raised,
he huffed out a sigh, fogging his own cup.
His eyes darted to the kitchen,
then to me,
and back again.
In a split second, he grabbed it.
His hands skidding over the glass,
and gulped the milk down.
Sliding the empty glass back across the table,
he wiped his milk mustache with the back of his hand.
I cracked a smile.
Eyebrows furrowed, he tried at a scowl
that gave way to a goofy grin.
* * *
A rose-colored sweater,
with glittering threads woven through a sea of pink wool.
Short fuzzy tendrils sticking out from my sleeves,
leaving a trail of fuchsia fuzz in my wake.
The day he made me cry.
"This game is for the big kids," they said,
and he stood behind them, head down, refusing to meet my eyes.
I ran through the crack in the door anyway,
my socks slipping against the threadbare carpet.
But they shoved him forward
and his fingers latched onto me,
slipping through the small gaps between the fibers of my sweater,
and he held on.
The tips of his fingernails scratched against my bare skin,
and a hole the size of a thumb appeared in my favorite sweater.
He let go.
I fell forward,
the rug burning a path across my face.
Eyes watering, lips trembling,
a river flowing through the carpet.
But, through my tear-soaked eyes,
I saw
him kneel beside me.
Worry lines creased between his eyes
as he took my hand
and pressed a kiss against our intertwined fingers.
And the "big kids" watched us from a distance,
puzzled.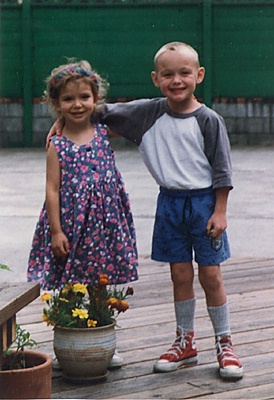 © Jacob H.,Phoenix, AZ