Downfall
August 10, 2017
He, who was her good display.
He, who always used to be with her whenever.
But never the wall she could lean on,
And never was hers she could show off.
He, who looks something precious in people's eyes,
The Adam of a proud Eden. And he, the apple's eye of Eve,
But a victim of a fake friend, who stabbed him in his chest
The reason of his sudden change of heart and mind.
He was hypnotized.
He, who gave his trust easily,
So his mind was blown because of that intruder.
Eve started to feel pain,
Her heart stabbed multiple times by his someone else.
She noticed that he had changed,
She noticed him falling in love, but not with her.
He, who knew he was loved,
So he drown himself into the false river.
Lately, he found himself being tricked,
And the first name came to his mind was Eve.
Sadly the timing was not right.
She cannot hold the pain any longer, so she moved away from him.
She could not save him anymore because she knew it was over.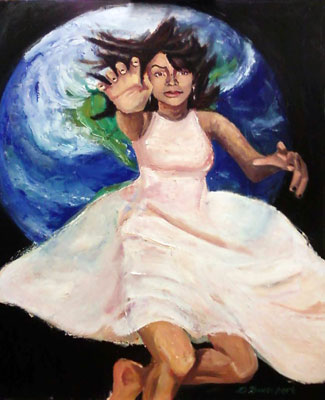 © Dominique D., Ozone Park, NY