The Autumn Flame
July 28, 2017
Sometimes, I feel,
The transient flame of autumn leaves,
The bold strokes of bark brown,
The weightless dreams of white clouds,
Exist only to frame the moments with you
The streams of brown silk,
Your pillow lips, delicate pink;
Your fragile shoulders,
Your body exalting a sense of the ephemeral;
Can I hold this moment in my memory
As certainly as I hold your hand?
Can I live forever in this transient embrace?
Can I keep this swelling intimacy in my heart?
Who put together this collection of curves?
A human expression of the Sea's grace;
A moment in the sky realised in colour;
Your iris a planet of crystal and diamond,
Your back the delicate sand dunes of the desert,
And like those structures
Constructed of minute grains,
Your shape can only exist for so long
Before life's wind carries you away;
Scattered you will be,
But the essence will remain
 
Before my eyes,
Through your voice,
You metamorphose;
As if in speech you remove masks,
You unbutton your skin;
As if the vibrations of your voice
Slip into my ear
Running and squeezing through those crevices
-That labyrinth of thought-
To converse with Perception who
In turn says to the Eyes
"She is much more beautiful,
She is much more beautiful, indeed"
Perhaps you have grown out of those weightless dreams in The sky,
Perhaps your heart illuminates as brightly as those autumn Flames,
And lasts just as long;
Like a Monet
Each moment is an impression of
Something partially named and never fully realised.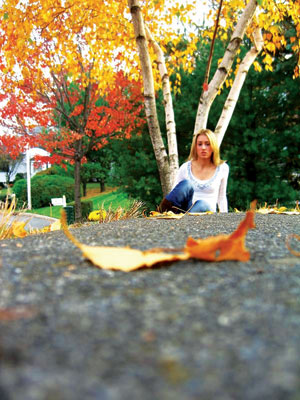 © Stephanie F., Garnerville, NY