Muddy Socks
July 10, 2017
When the clouds gather in front of the sun to
soften the blows of the harsh rays on my skin,
and the thunder rumbles in the dense skies,
the lightning strikes will echo from the heavens to
the grounds,
and what can I do except take my feet out from my
muddy shoes and muddy socks and stand in the rain
and let the water press my shirt onto me,
hoping that it will wash away everything I want
it to,
but knowing that some things can never be drowned,
the raindrops only reminding me of the tears
that should be shed for them.
Or perhaps when the clouds dissipate into the light blue
sky we know so well,
the sun will remind us of the joy we should be feeling
and the smiles of others who aren't us.
Emotions are complicated
and pain knows no weather, a blind
force, ignorant of any forecast or hour,
and it will always find a path into our red
plastic cups and our love and the delicacies
we have after dinner.
And it's easy to take away that if we slit our eyes and stay
just as blind as pain,
we can be just as powerful and indifferent as it. But the
feelings and the truth and
love
make the agonies a little less,
weather reports a little more dull,
and our time here worthwhile of the sting.
And so really,
we win.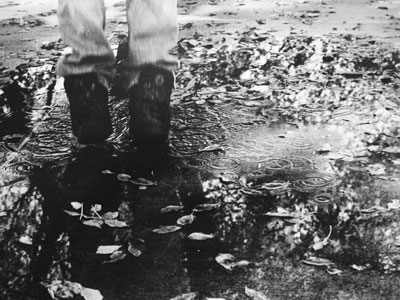 © Laura M., Eagan, MN