A Mirror on the Other Side of the City
June 10, 2017
Strutting down Michigan Avenue she clutches her bags
Ornaments tugging her frail frame towards asphalt. 
Her Limbs bend, sigh,
Mimic the choreography of the tinsel-tangled pine on the opposite side of
Six inches of glass and a
Revolving door.
The star crowning her head has
Been swapped for a set of Raybans
Shielding charcoal-lined lids from no
Sun: it won't dare intrude;
Shielding passers by from charcoal-lined lids.
Stilettos pockmark half-frozen curbs
The feet they consume beseeching her for release:
Futile.
Earrings set with diamond tug at her lobes, threatening to relinquish
Their grip
She tightens their fastenings.
South, she continues, heels click-clicking in metronomic pulse
South, she continues, chin tilted above the skyline as
She passes black suits and red scarves and brown briefcases until
She hears it.
Her name
Whimpered by someone behind
Not a black suit or red scarf or brown briefcase.
She turns, pushing red splattered lips against
White-painted teeth
Slowing the heel-clicking cadence.
Then
Again.
Her name ringing in her ears above
The jingling bells permeating trenchant air
Above the muffled carols escaping through reluctantly opened,
swiftly shut
Shop doors.
She spins, tentative, stalks:
A feline lurking among blades of grass stretched six feet
towards the sun
Prowling, tiptoeing backwards
Tiptoeing north
Towards the direction from which she came.
Again.
Her name echoes
Refracting off skyscraper walls and asphalt floors and glass taxi windshields
she traces its path to
The mouth of an aged man
Buried under a ragged blanket, seated upon a grocery store crate, hunched over a cardboard sign etched
With black Sharpie.
His eyes, deep-set,
Deeply pigmented
Like hers
Absorb every wavelength of
Light and reflect back
Chasms so shrouded the pupils
Vanish within them.
Like hers-- no
Not like hers:
Hers.
But now her chasms are opening
The brows above them shooting
Towards the clouds:
Opening, mimicking her mouth and
Her lips are arranging themselves to
Utter the first word she ever learned
Because the chasms are
Recognizing the
First face she ever saw.
And his chasms
Widen too
but as they do
They sink deeper into their sockets
Because she pulls hers away and
Turns north
Clutching her bags
Ornaments tugging her frail frame
Toward asphalt.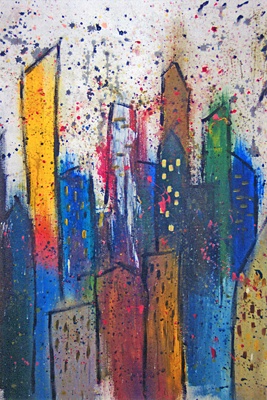 © Chase C., Centerville, OH