Ten Ways of Looking at the Ocean
June 1, 2017
I
The only movement on the beach
at four in the morning
is the ocean rippling and crashing on the shore.

II
A couple hours later,
joggers come for their early morning runs,
and splash through the edge of the ocean
That is kissing the sand.

III
It is now late morning,
the ocean looks as if it's shining and glistening
as the beating sun reflects off of it.

IV
Parents look out into the vast ocean
searching all the heads bobbing up and down
to make sure their kids are still there
and have not drifted away.

V
Young lovers use the ocean as their blanket
as they fool around in the waves surrounding them.

VI
Miles further out,
there is a whole other world.
This ocean is also creatures' homes

VII
Dolphins make their way up to the shore,
everyone stops to watch the show.
They leap out of the ocean, one after the other,
just to splash back into their home.
Everyone cheers.

VIII
The sun begins to set, no longer warming anyone.
They retreat out of the now not warm enough ocean.

IX
The beach begins to clear out,
leaving the ocean more alone
and its waves more clearly heard crashing against the sand.

X
The moon is now rising over the ocean,
bringing back the shining and glistening,
but now it is much more calm.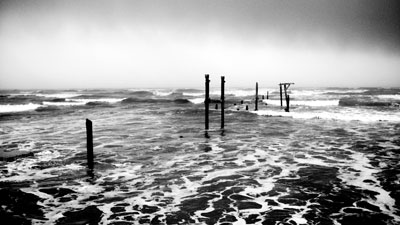 © Harrison L., Ruston, LA