Tired Heart
May 11, 2017
This tired heart is beating.
So slow,
but so hard
you'd think it was King Kong
stomping through New York.
But nothing is certainly
as bright as New York.
Colors dim
as they pass through my sunken eyes.
Everything is dull and gray.
The sounds,
the sights,
the feelings,
the smells,
the tastes,
I can't.
Scents make me sick.
I have to leave, I'm sorry.
Tastes crumble
dry in my mouth
as my Vegas nerve jerks
deep down inside me.
Sour.
You know that feeling you get,
like butterflies in your stomach?
Only they're evil and huge when you stay awake for days
and they feel more like anxiety.
Anxiety.
Everything is heightened.
The disgust,
the stress,
the exhaustion,
the defeat.
What's worse?
I can't feel anything.
My emotions seep out of me
like the opposite of a sponge.
Maybe I'm a sponge that's too full.
Someone who took too big a swig
of everything.
Now everything is leaving.
My emotions, my mind.
Mindfulness? Ha!
Like a dream come true.
But that's what it is
At least that's what it feels like
A dream.
I'm too exhausted
to chase a dream.
I'm tired.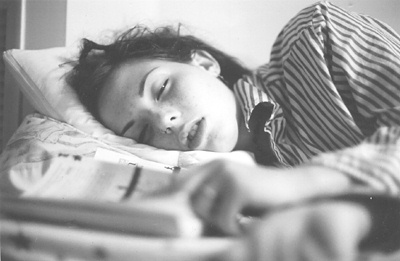 © Rosie A., Lexington, MA