Grandpa Schramm
May 11, 2017
Opening the door to the dark, cold basement --
Fish tanks lining the sides glowing upon the concrete steps.

Sliding my hand on the wall --
The dusty town appeared.

Little people, frozen in their actions --
Positioned in their permanent setting.

The control panel sitting near --
I shift my fingers and turn the switch.

Life breathes back into the metal beast, watching it zip by, breaking through the dirty, thick air. Dust lying behind while the people rejoice and dance to the folk music of the buildings,

while the lights flash in bright colors all around. The train pushing and getting prepared to get up and over the steep hill, climbing as it lets out a long, loud whistle.

Rushing around the corner, surrounding us as it moves and breathes.
Showing us the lay of the land, taking us on its journey.

In and out of tunnels letting out a horrific roar, then suddenly falling fast, reaching to its end.--
Halting in a complete stop at the station.

I hear his voice, and his familiar words speak out once more,
"How fast should we go this time?"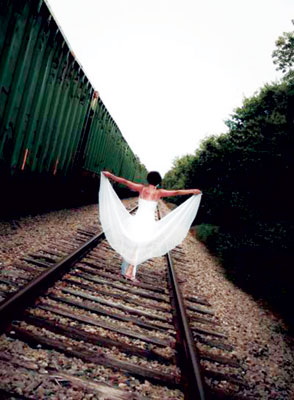 © Olivia E., Alto, MI