78 Cents
May 10, 2017
"You can't play with that. That's not a girls' toy"
I just wanted to play
"You cannot wear that, it will distract boys."
I thought it looked pretty
"Hey, you're okay at hockey. For a girl."
I guess I'll do ballet
"Boys don't like short hair. You should have it curled."
I don't care about boys
I'm getting older now. I don't like it.
I have to wear new clothes
And be nice around all the stupid boys.
My mom just told me to get a boyfriend
"A man should care for you"
There are others whose time I want to spend.
Now salty tears are streaming from my eyes
"It's that time of the month."
Why can't I have emotion? Mom just sighs.
I have to put on a dress for the dance
"It's the rules. There's no choice."
Fine. I'll be glum on the night of romance.
I walk down the street. Men holler nearby
"It's just a compliment."
Then why am I feeling so petrified?
It is now time to apply for college.
The first thing mom says is,
"Check the assault rates. You'll need the knowledge."
I now go to college, yet I'm not free.
I can't walk during night,
For fear of older men attacking me.
But one night I was drunk and it was dark.
He snuck up from behind;
God, I wish I hadn't walked in that park.
They ask what I drank and if I said no.
No one cares what I say,
Whether I really matter, I don't know.
I get my degree and push it away.
But he stays in my mind,
Crushing my esteem, every single day.
There never was justice for that man's crimes.
He stays free, unpunished,
Yet I always feel like I'm serving time.
I now have a husband; I'm a scholar.
Yet I make less than him,
At seventy-eight cents to the dollar.
I have begun to accept my dull fate.
Helping out my husband,
Raising our daughter to be truly great.
But I change as I watch her play with a boy.
Not sure why, but I say,
"You can't play with that. That's not a girls' toy."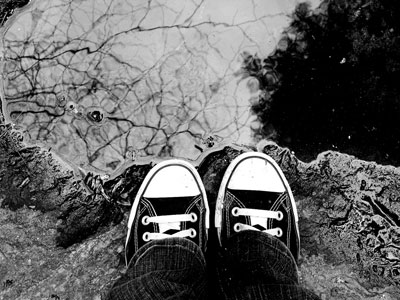 © Michelle B., Blairsville, GA