This Bittersweet Day has me Writing Poetry
May 15, 2017
I'm alive now 
I won't be forever
The future is uncertain
It could disappear whenever.
But I'm here now.
The sun plummets through the sky
Languidly, completely, whole-heartedly
It's one of the rare constants in life: reliable
Makes me feel, ardently.
But it's bittersweet.
Rays glimmer on the lake
Bouncing off, reaching my eyes
I exist here to perceive
Beauty, memories, and goodbyes.
But it's not over.
The sun, our closest star
Seems to descend
In reality it's all relative;
We are the ones spinning, 'til the end.
But I'm lost and upside down.
Disparate from le soleil
I do not have a defined path
To follow
And I'm not just in college to learn some math.
But is more truly more?
It's setting now, the sun
Which makes me simultaneously
Smile softly and cry
As I absorb this radiancy.
But I wonder.
What of all the others, past and present and future
Who lived, loved, learned, rejoiced, maybe died
Entranced by this same sun, same dock, same lake, same city lights
They rode this rollercoaster of a ride.
But now it's my turn.
The sun sinks below the horizon
Recuperating; it shall undoubtedly ascend the next morning
Regardless of what occurs
In the day, in the night, without warning.
But change is inevitable.
Stellar patterns are consistent amidst the chaos of life:
The children age, the clouds shift, the snow falls.
So I watch the sunset, and each time
I'm a revised person, answering new calls.
But I don't want to age.
It's May 12th and I'm conflicted. Emotionally.
Do you remember September?
When all was fresh, exciting, thrillingly unexpected?
The whole freshman year awaiting us, while we listened to Closer.
But now it's in the past.
There are two paths:
You can spend life waiting-
In wait of the future, in wait of others waiting for you
Always waiting, placating, never creating.
But there's another choice.
Frightening, yes, rewarding, yes…
Live in the moment, fully awake.
Embarrass yourself; don't stretch your limits-break them; inhale nature.
Laugh and sing and dance and cry and kiss and lose yourself and always jump in the lake.
But human life is brief and moments are fleeting.
The best year of my existence sped by in a blur
Bittersweet nostalgia envelopes me
Not of locations, not of people, not of times, but of the memories.
I discovered how to simply yet complexly be.

But it's over, but it's not,
but it happened, but there's more to come,
but I'm scared, but I'm ready,
but I'm lonely, but I've found the truest friends,
but my phone died 3 times today, but oh well,
but I don't want to grow up, but I embrace this adventure,
but how do I find myself, but I'm creating myself, but.
But I love this life.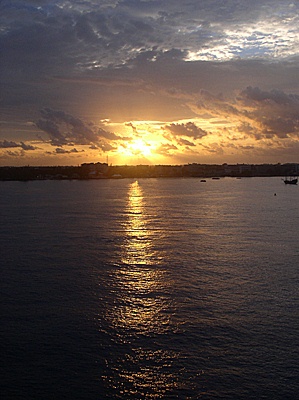 © Rebecca Y., Los Angeles, CA