Golden Leaf
May 5, 2017
Typical November evening– sitting in the old park bench by the coastal waters.
The only soul there was mine; all others were chased out by their own sense of jitter.
All birds had migrated, mice and squirrels had hibernated...
Just as if  the park's life had ran away.
All left, but the trees remained.
It's roots held hands while their shivering bodies stood up naked, tall, competing against each other for sun's lusters.
All those branches crying out for help were not completely stripped;
A hint of heavenly glitter could be spotted at the branch's extremity.
As if each adornment was perfectly fixed.
Silently, yet deafeningly, the trees spoke. 
While I watered them, they'd whisper words of wisdom;
While I read to them, they'd stand still and sentient...
The trees took care of me and I took care of them
Every other day I sat on the old park's bench.
And one tree, the loneliest tree, reached out to me.
He had gently blown a golden leaf over my book
One so Godly that reflected its own surroundings.
"What am I supposed do with this leaf?" I asked.
The tree would not answer;
After searching for answers, as the days went by,
I found a poem engraved into it's hard flesh:
A rose reflects your personal thorns, those you hurt with.
A glass represents your transparency, yet it cracks.
A flame reflects your passion, the light you willingly douse.
A feather depicts your soul, slowly loosing its barbules.
A golden leaf represents purity, which I've now lost and you will too.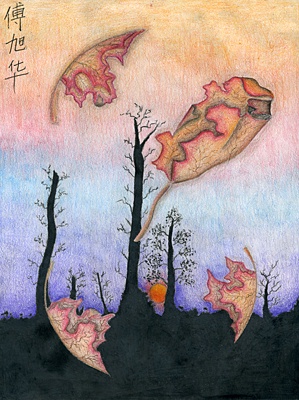 © Becky F., Sacramento, CA