A Charming Snare and A Delicate Smile.
April 11, 2017
I've danced with both a demon and angel,
and held my gaze directly into their eyes.
The two are seamlessly alike in appearance,
though their tongues speak different languages.
The demon greeted me with the most charming snare,
his dark eyes cast with a false radiance.
He spoke of horror as the words drip from his lips like honey,
allowing his words to seep into every crevice and drown my head in black ink,
for he dabbles in making the cruelest things appear beautiful.
The angel approached me with the softest of smiles,
his delicate features accenting his kind heart.
He told the bittersweet truths in the most comprehensible of phrases,
the words cascading from his lips in careful consideration,
for he understands the harsh realities but chooses to believe that all will heal.
In learning the inner workings of the two extremities as well as i've come to know them,
it is prominent that the demon hopes to simply pacify your harshest thoughts,
while the angel wishes to assist you in healing.
The charming snare is a tempting force,
but the delicate smile will seemingly always have more appeal.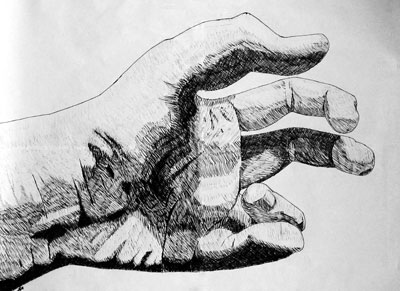 © Luke S., Montclair, NJ