Dissembling Autumn
April 15, 2017
Little pumpkin-breath kisses
Shiny splashes of autumn gold
Leaves drift s l o w l y
Reds and oranges and yellows
B u r n e d into their intricate designs
And they
S  l o  w  d o w n
The low, milky sky seems to go forever
Into an expanse of dark black fields
A slight ripple never tears the fabric of the silky sky
Almost like…
When we die, our existence
Is not as permanent as black ink letters stamped on perfect white paper
Or the brazen sky that will always be above our heads
Or the endless galaxies that lay open for eternal search by future aliens
We are not eternal
We are not godly like Poseidon, master of the seas
We are part of his expansive ocean
Swimming
Through murky water
To the deep end, where only sea urchins lurk
It seems
Humans were given "insatiable" curiosity
Marveling at
Our ignorance
(do we know how many licks it takes to get to the bottom of a Tootsie Pop
and do we know how many marshmallows it is humanly possible to stuff into our mouths?
and do we know the back of our hands better than we know ourselves?)
Our deaths are only
but ripples in the big blue sea
I like the glamour, I like this movie, I like this window, I like this uncertainty
I like this life
An ephemeral joy, but joy nonetheless
And, oh, it appears fall has come
And more leaves are going to fall
It appears
It is the time for cold hands and soft whispers, and hot chocolates and loud winds
It is the time for baked goods and sour, candy-covered teeth and stained-black fingernails
And I? And I, you ask?
I'll be wading in the sea with my rainbow-grass tail
Floating up and down, down and up
From shallow to deep and from deep to shallow
And in the name of this season and without a better reason
I will spend the rest of tonight in silence, watching the leaves dropping
Watching the leaves dropping.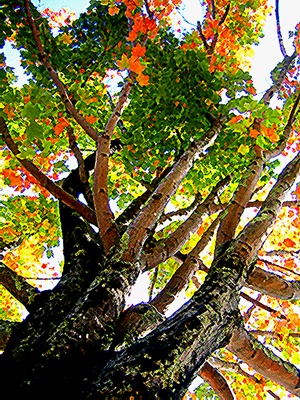 © Kathryn R., Shelby, NC