Missing the Breakfast Ritual
March 27, 2017
At six, Kate and I awake.
The sunlight flows through the window, and
I can't help but notice her beauty, you make my heart ache.
Your eyes, the color of the Fiji waters midday, your blonde hair, going just past your shoulders, I can't help but view you as an angel. My angel.
Six muffins, and two cups of coffee, everyday.
We reminisce on days passed and the hours ahead when we're away.
Six seconds, is what I get, to say goodbye,
before you're out the door for work.
Six calls, I ignore six calls from an unknown number, I standby.
Oblivious, I speculate maybe it was the wrong number.
On the seventh call, I answer.
I fall to the ground.
"A car has hit your wife while she was crossing the street, !
You need to get to St. Judith's on 6th street immediately!"
Six minutes later, I arrive at the hospital.
Sitting alone and like a puppy without an owner…I wait and wait for the doctors.
Six hours later, the doctor drifts in the room and her face drops like an apple from a tree.
Tears began running down her face until she muttered, "She's gone."
Six days later, my ambience is depressed.
This world: an inhabitable place with
death more inviting than life.
Six weeks later, the dazzling sun hasn't shined the same.
Then, Jessica came over to help guide me back to contentment.
She knew what Kate meant to me, so she didn't leave.
She stayed the night and ran her hands through my hair, till I was dormant.
Six in the morning, I awake for work. Then I saw her:
Jess, sitting in the dining room.
Six muffins and two cups of coffee lay in front of her.
For the first time in six weeks, I see the sun again, reflecting off her luscious brown hair, like an angel.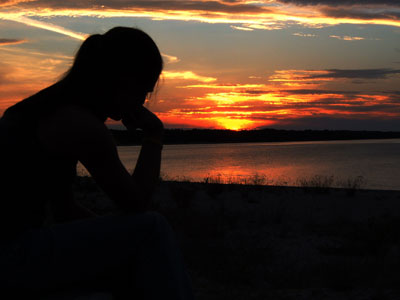 © Hilary L., Rogers City, MI