Moon Child
MAG
March 7, 2017
The car turns, headlights blaring and all I can see is her.
Blinding fluorescents do not do her justice,
thankfully, the moon is there too.
They call her "moon child" for she is there when you least expect it
There when you think all hope is lost
And she is effortlessly beautiful.
Her small frame practically leaped into my arms and I felt my heart swell.
Only a day had passed and I missed the way her hair scratched the side of my cheek.
I had never seen a person look so contradictory before,
Her oversized sweater gives her a look
of innocence,
But underneath, I know she is teasing, taunting, whether or not she knows it too.
The molten gold scattered moondust in the sky
is breathtaking,
Jaw-dropping,
Absolutely magnificent,
Yet all I can focus on is her.
Her birthstone green eyes and how I want them
to make me whole again
Her perfectly parted lips and how I want them
to tell mine a secret.
I am never one to get easily distracted
Yet all I can picture the entire time her gentle words flowed out of her mouth,
Is me at my desk, my hand itching to write
about her.
It's an effortless act, to compare her
to the phenomenons we experience daily.
Before I met her, nothing fascinated me more than
The beacons of hope for all the lost souls in the world as they danced across the midnight sky.
Nothing made me wonder more than the flashing pinpricks in a veil of darkness, almost outside the span of human comprehension.
And then,
Moon child came along
And she is the only thing to ever leave me more dumbstruck than the stars.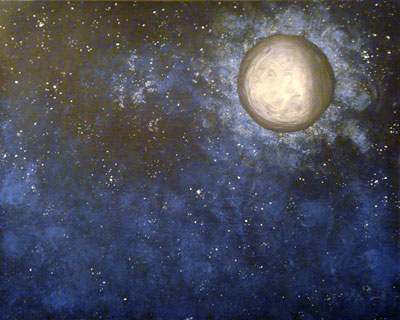 © Allison H., Vancouver, WA