Anxiety
February 15, 2017
Anxiety has dark frizzy hair,
and large frightening eyes. 
She enjoys cold winter mornings, 
and dark frigid nights. 
When approaching her,
You must be careful- 
even the smallest words can act like stabbing knives. 
She stands still. 
So still, you can sense her shivering 
as her silky white dress sways side to side. 
The glass of water slipping, 
Slipping through hands, 
Shattering into diminute pieces, 
Ripping through skin, 
Turning to sand. 
Blood drips down her knees as her harsh breathing grows. 
Suddenly, The clock- ''it's almost time!''
... her fidgeting slowly flows.
Scratchy voice,
Louder groans,
sudden moans.
... all at once ... 
Until her swift-beating heart Explodes.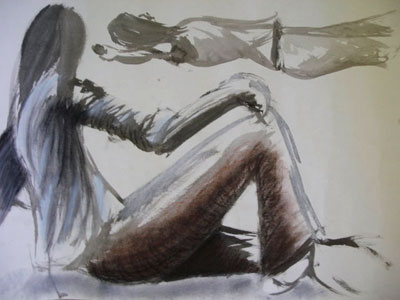 © Carollynn G., Hawthorne, NY