Teary Eyes
November 15, 2016
Have you tried looking into her eyes?
You'd then realize you are the reason she cries,
Herself to sleep at night.

You're not there to kiss them away,
To play with the stray strands of hair,
In her face.
Not there,
To be mesmerized,
With the sky blue,
That swirls in her green eyes.

She'd always be there standing,
Staring.
Sitting still as you steal her heart,
And take it with you.
As you walk away,
Again.

You'd understand,
If you stopped taking off,
As if someone was chasing you.
Stopped tearing her trust,
As if it was loose strands on a T-shirt.
Stop ripping up her love,
As if it was that hateful note you didn't want her to see.

You would have seen it coming,
Had you'd just stayed.
But the moment you turned around,
Was the moment she walked away.

You broke her heart every day,
Ignoring the crunch,
As you stomped away.
She got sick of it.
Seeing you sway back and forth,
As if on a teeter-totter.
You left her in the dust,
Coughing up a lung.
So she packed up and left.
I hope it stung.
Felt like those bees,
You're allergic to.
Now that you finally see,
What you've put her through.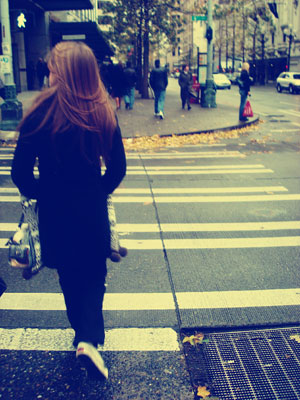 © Adria O., Edgewood, WA