Daddy's Girl
September 23, 2016
Dear Daddy,
You taught me to fight,
That is the reason I took flight.
Pick the battles that win the war,
Surrender the ones that carry too far.
You taught me to fight,
Now I am at great heights.
I'm scared to keep going,
Otherwise I might end up falling.
You taught me to fight,
So now I shed so much light.
You taught me to fight,
But you also taught me fright.
Years I spent watching you in a white gown,
All my childhood I smiled to hide the frown

You taught me fright,
But you taught me to fight,
And I grew up faster than everyone,
Childhood being a lost dream.

A childhood surrounded by needles,
The sick stench of those white rooms,
Ungodly experiments they performed on you,
All in order to keep you alive and well,
And still with us to this very day…
I am obligated to thank them.
A childhood of watching
Mama's carefully controlled face,
Never seeing her lose her sanity.
My sister's eyes laced with fear
But holding her tears,
But the hope ran out the fears.
Pray, sleep, and hope.
Pray, sleep, and hope.
From birth to 11 years
So many days we visits,
But you kept on working,
Kept smiling and laughing,
Kept the family together like salt water taffy.
You taught me fright,
Keeping death at bay all night.
Endless hours of cries,
Crying for lullabies.
You taught me fright,
To hold on to life with all my might.
Enjoy the thing you have now,
It might not always be there.
You taught me fright,
To remember every sight.
To lock away every horrid night,
To turn on every light.
I always keep my eyes open now,
Since I was a child,
I was given cubes anxiety and squares of pain,
Only to return the proper answer
In circles of hope and spheres of love.
I hardly sleep now,
For fear of lost time,
I never saw your eyes close,
Even when the reaper was far to near.
Midnight emergencies,
Sickening sights.
My eyes never truly shut,
I hardly let my mind go out.
But thank you, Daddy.

Regardless of the dark nights,
The endless fights and plights,
You never let yourself fall.
Even when the reaper lent his hands to you,
You laughed and kindly directed him away.
I am my Daddy's girl,
Even though you and I fight,
You know you have your family of steel pearls,
But you taught me to fight.
You taught me to fight,
You taught me fright,
Granting me my hopeful light,
Giving me paranoid nights,
Hold to life with all your life,
Please just remember ever sight.

You taught me to fight,
To love,
To keep alive,
To hope,
To smile,
Thank You Daddy.
With the Greatest Love,
Daddy's Girl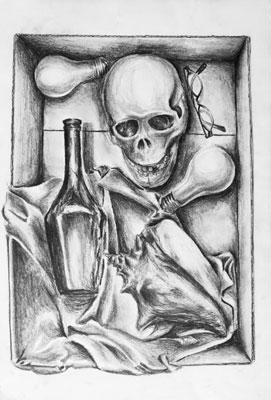 © Karen S., Norwalk, CT