Death by Living
September 6, 2016
It's one of those things that is unseen
But more real than the clothes on your back.
No blood, no bruises are necessary for this pain to exist.
Just as the only proof of the wind is the sway of the trees,
The only proof of this pain is the expression on their face.
The anguish that fills their eyes.
And there is no way to fight it.
And when it is severe enough,
You will see the recipient hunch over,
Starting at their shoulders where their heart just caved in.
Next at the waist,
Where the spine abandons its responsibility.
Last at the knees,
Where the will to stand breaks clean.
And we don't fight it.
The pain chokes you and so
The only sound that may escape you,
Is a strangled sob of despair.
Screaming and crying is not permitted.
And we won't fight it.
This is the pain of something horrific.
Something that is overwhelming and incomprehensible.
And without big words,
This pain is the pain
That precedes that silent numbness we've all seen on another's face.
In another's eyes.
And we shouldn't fight it.
Because the other side can only be seen when we get to it.
And not a moment before.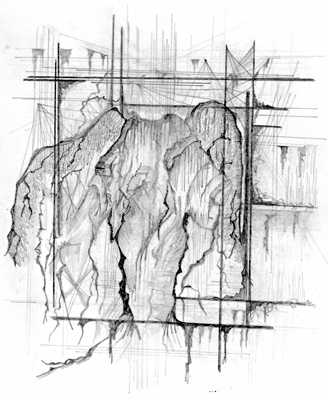 © Alexander G., Whitman, MA