A Letter To Myself
August 20, 2016
Dear 9 year old me,
You are a beautiful creature
Made up of flowers intertwined with stars
The whole universe
Resides in you.
Dear 9 year old me,
As you grow up
You'll find out that fairies
Are monsters and Santa isn't who you think he is.
All the bedtime stories you've been hearing for the past 9 years are true,
Only these tales have a different ending.
Monsters walk among us
And heroes don't usually win
But dear 9 year old me,
Don't let this stop you from being who you wanna be
Don't let this stop you from hoping
For a better life because
You have magic in your hands
And in your eyes
Little darling,
I ask you
I ask you not to stop believing
That good exists in this world
You only need to dig a little deeper to find it.
Dear 13 year old me,
Your curves are beautiful
And so are those stars on your face
Whoever says otherwise
Is lying.
When the friends you have right now leave you,
don't blame yourself
Don't lock yourself up in your room and punch the wall
Because trust me, it hurts.
Do not carve yourself with hateful verses
Because it is not your fault.
Remember, you don't need permission
To cry.
You're allowed to let it all out
But when you're done with rivers
Flowing down from your eyes and
Trying to figure out all their horrible lies,
Move on
Wake up and go to school
With a big smile on your face
And remind yourself that you're worthy
Of someone better.
Dear 15 year old me,
I met you last year
And I'm sorry for everything
You've been through
I know, right now, it feels like
Hell hounds are after you
I know, right now, you want to
Stop breathing.
But, believe me, it gets better.
And it sounds really cliched, I know, but
The universe has big plans for you.
Dear 15 year old me,
The one who got away should stay away
So stop trying to make things happen.
Listen, darling
The monster you befriended when you were 5
Is across the universe now so move on
And I know, the monsters inside your brain are
Crying out for food but don't feed them.
It's difficult, I know
But do not give them the power to control your mind
And your soul.
Dear 15 year old me,
It's okay
It's okay to lower down your walls sometimes
It's okay to trust
Don't let your past keep you from love.
Dear present me,
Damn girl, you are beautiful
You are turning into a wonderful woman
And yes, your inhibitions still haunt you
But you'll be okay.
You are okay.
There's only one thing I ask of you.
Please please do not think
That emotions are monsters and feeling them
Would make you look weak.
If the river that flowed down from your eyes
When you were 13 wants to flow again,
Let it.
Let yourself feel the stardust flowing
all around you.
Let yourself feel the music
playing all around you.
Dear me,
Welcome love
Welcome it with open hands
And embrace it as much as you can.
Listen,
Listen to the symphonies of life
And create your own.
Dear present me,
The magic in your hands isn't lost
It's just buried deep inside your veins
And all you need to know is how to use it.
Dear future me,
I hope you're alive
And I hope you have the life
You've always wanted.
I hope you're out there
Taking the world by a storm
And I hope you haven't lost your ability
To hope.
Dear future me,
I hope the magic inside your veins
Hasn't lost its spark
I hope you have thousands of books
With your own symphonies now
I hope the monsters inside your head
Have finally found the exit
I hope your nightmares
Have turned into dreams full of songs
With beautiful lyrics.
Dear future me,
I write this letter to you
To remind you of everything
You've been through
Of every pain you've felt
Of every love you've lost
Of the monsters inside your head.
To remind you
That even after all those raging storms
And fires,
You are here
You are still here, standing
And hopefully, laughing
And crying
And feeling
And believing
You are here
And you're alive
And you made it.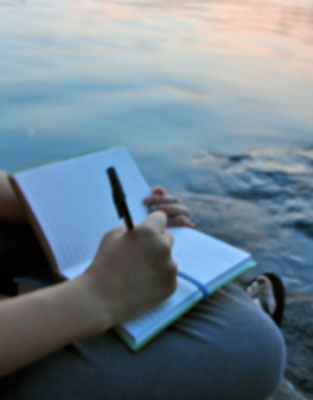 © Grace K., Port Washington, NY